THE MAIN SOCIAL UNIVERSITY TAKES
THE LARGEST CHESS FESTIVAL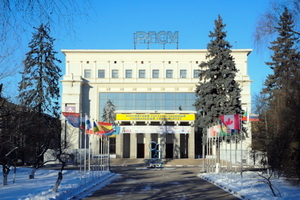 Russian State Social University is one of the major chess arenas in Russia. In recent years the University has become a platform where regional, All-Russian and International competitions regularly take place. In 2016 RSSU held more than 30 sport events. In the beginning of 2017 the university organizes one of the key events – International RSSU Chess Cup Moscow Open 2017.
Moscow Open-2017 is one of the largest chess festivals in the world which attracts men and women, veterans, students, children, persons with disabilities. It's held for the 13th time this year. Anyone has opportunity to participate in one of 8 tournaments and compete for the prize fund of the Cup. The festival includes FIDE workshops for arbiters, workshops for coaches, «Chess in school» workshops for teachers of general education schools and International scientific-practical conference «Chess in the educational system». Chess enthusiasts will have an opportunity not only to acquire new skills, but also to gain priceless experience in competition with more adept chess players. Participation in the tournaments is a great test of ingenuity and a way to showcase uniqueness of one's logical thinking.
RSSU has become the first Russian university that actively promotes chess among young people. In 2016 RSSU, Russian Chess Federation and Russian Student Sport Union signed agreement on the establishment of National Student Chess League, presided by RSSU rector Natalia Pochinok. National Student Chess League is designed to promote chess among Russian students.
There are many outstanding sportsmen among graduates of the University, including champions of Moscow Student Games, members of Russia's national chess team and international grandmasters such as Sergey Karjakin, Valentina Gunina, Ian Nepomniachtchi, Ernesto Inarkiev, Nikolai Chadaev, Mongontuul Batuyag, Alina Kashlinskaya, Vladimir Belous, Irina Vasilevitch and others.
International RSSU Chess Cup is important not only for participants of the tournaments, but also for chess coaches and specialists. It´s a great opportunity to exchange experience in chess education. Chess activities of RSSU make a significant contribution into development of chess in Russia.